This eighteenth century Manor House, with private Chapel, is listed as one of the most important historic buildings in Torres Novas. Once through the entrance gates, the architecture of the period can be fully appreciated.

Across the courtyard is the colour washed main house with elegant, arched windows.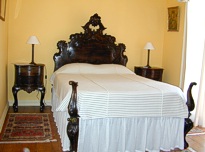 Forming part of one wing of the house is a clock tower. The main entrance to the house is reached by a stone staircase leading to a columned veranda.
The interior of the house is equally impressive, the sitting room having the original wood panelled ceiling and tiled floor. All the rooms in the house are filled with rare antiques passed down through the generations.
The beautiful family chapel was built in 1726 and is covered in wonderful azulejos by Valentin d'Almeida who also designed the tiles in Porto Cathedral.
For those interested in historic sites, Casa dos Vargos is ideally situated. Fifteen kilometres away is the Convento do Cristo at Tomar. Founded in 1162, it was the headquarters of the Knights Templar. Its sixteen sided chapel, based on the Church of the Holy Sepulchure in Jerusalem, has UNESCO World Heritage listing.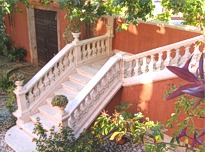 Visit the medieval walled town of Ourem, or further west, Batalha, with its magnificent Gothic abbey which is the resting place of King Joao and his English wife, Phillipa of Lancaster, whose marriage sealed the Treaty of Windsor. Dating from 1386, this alliance between Portugal and England is the oldest in Europe.
Casa dos Vagos is on the edge of Serra de Aire et Candeeiros Natural Park. This protected area has some fantastic caverns which are open to the public. The largest of these are at Mira de Aire.
The guest accommodation in the manor house comprises three twin bedded rooms ( Madressilva, Rosa and Pervinca) and one double bedroom (Giesta). All have ensuite bathrooms, central heating and views over the courtyard.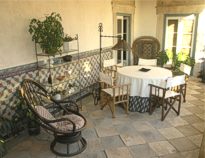 Adjoining the bedrooms is a small kitchen with kettle, microwave and fridge for an early morning cup of tea or late night bed cap.
There is a comfortable guests' sitting room with easy chairs, open fireplace, and mini bar. The room is furnished with fine paintings and period antiques.
One piece of note is an English commode decorated with beautiful old tiling. ( its original function is now obsolete!)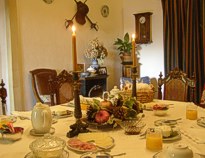 Guests have the use of a small library which contains many old books relating to the Casa and the surrounding area.
The half tiled shaded veranda with outdoor furniture is a peaceful place to relax from the heat of the day.
Casa dos Vargos is the centre of the village which was originally the houses of the workers on the very large estate.
A short walk brings you to the Os Maias restaurant where one can enjoy excellent meals and fine wines. At lunchtime it is full of the local tradesmen taking advantage of the reasonable prices.