Casa Sao Rafael has recently opened and is approximately 2 kilometres from the centre of Obidos, giving an outstanding view of the town and its castle.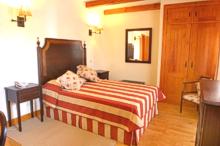 Set in a 6800 square meters secluded property, Casa Sao Rafael offers quality accommodation in a special location, near one of the fewest walled European towns. The property has swimming pool, private car park and children's playground.

Built in 1888, the main house has 3 twin and 3 double bedrooms, all having private bathroom, central heating, satellite television and internet connection.

All the rooms have been carefully and tastefully decorated creating a relaxed and peaceful atmosphere.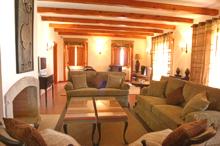 Additionally there are also four 1 bedroom apartments. All the apartments have living room with sofa bed, kitchenette and bathroom and are fully equipped.
Other facilities at the property include snooker table, laundry service, breakfast room, bar, games and parking .
Casa Sao Rafael supplies information regarding local natural attractions, bird watching and walking tours in the region.


The town of Obidos is one of the most visited towns in Portugal. It is known as "The Wedding City" since, from 1282, it was the traditional wedding gift of the kings of Portugal to their queens.
In 1444 King Afonso V, then aged ten years, married his eight year old cousin, Isabella in the old church in the central square in the town.
The active and adventurous should take a walk around the town walls but the uneven surface and lack of guard rails make it unsuitable for the young and elderly.
There is a fish market most mornings near the gates to the town and in October there is a festival of ancient music in various places around the town.
While in the area visit the coastal town of Peniche with its many typical fish restaurants and Alcobaca an imposing gothic monastery which has the UNESCO World Heritage classification.