Located overlooking the river Tamega in a protected green area, this beautiful house has all the distinctive features of a typical stone house of the region. The house is decorated with remarkable old furniture.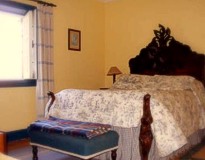 The region of Terras de Basto, is a fertile agricultural area surrounded by mountains (Marao, Alvao, Barroso), with the Tamega river flowing through the middle of it. It produces a very good "vinho verde" wine.
The name "basto" (literally meaning "I claim") comes from a group of Celtic statues, symbols of power, which have been found in several local spots.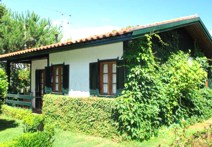 Mondim de Basto is located on the left bank of the Tamega river in an area known for its fertile soil. Mondim is set in the border between the most Northern provinces of Portugal, Minho and Tras os Montes.
Casa do Barreiro de Cima provides accommodation for up to 10 people.
There are five bedrooms in total, three double rooms and two with twin bedrooms, all with en-suite bathrooms and central heating.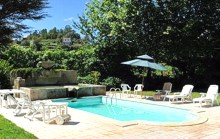 There is also a cottage near the swimming pool with self catering facilities. The cottage has two twin bedrooms, central heating, living room, TV, etc.
Guests also have the use of the lounges, dining rooms and the living room with an open fireplace and wireless internet.
The gardens offer a peaceful and relaxing atmosphere, and there is a barbecue area where meals can be served.
Suggested activities and places of interest in the area include picnics by the Tamega river, water fall in Ermelo, Senhora da Graca and the Alvao Natural Park.