Quinta do Cao took its name from the area where it is set, Lugar do Cao, meaning dog's farm. It is situated on the north bank of the River Douro in an outstanding location.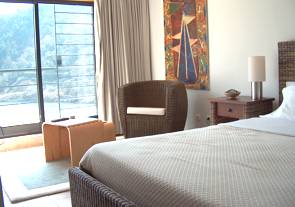 In the past, the Douro river was used by the Rabelo's boats to transport the wine from the producing estates to Gaia where the wine is matured. Nowadays tourism boats cruise its waters up the river in a memorable and interesting journey. The vineyards covering the slopes of the Douro valley offer spectacular scenery.

This 12 acres property is set in a sloping land bringing together leisure, vineyards, nature and a good dose of tranquillity. The present owners bought the property a few years ago and from the ruins of an old granite house built a modern and beautiful home.

Next to it, additional guest bed and breakfast accommodation has been built on different levels. As the whole site runs steeply down to the river it is more suitable for young, fit persons.

The decor is modern and inspiring giving a personal touch to all the rooms in the house. Occasionally, paintings of different artists are exhibited at the entrance hall.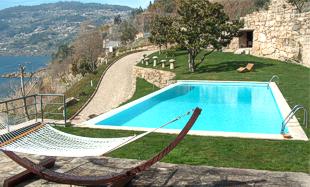 In the main house accommodation consists of one twin and three double bedrooms, all having private bathroom, television, central heating, air conditioning and mini bar.
Common areas in the main house include a dining room, a games room with billiards with an independent entrance from the garden, a living room with fireplace, DVD, video and Cable television.
A few metres from the main house there is a separate bulding with 2 sets of two bedrooms with views to the river. Each of these 'Family Rooms' comprises one twin and one double bedroom sharing a complete bathroom.
Next to the reception office is a library accessible for guests.
There are also two terraces from where guests may enjoy from the magnificent view to the river.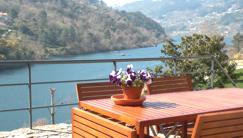 The swimming pool is situated in the garden area. It measures 7 by 14 metres (23 to 46 feet), depth varying from 1.20 to 2.20 metres (3.94 to 7.22 feet).
Next to the garden there is a barbecue area and a small covered terrace with a table tennis table and table football. Garden games such as bowling and bowls are also available.
The property has a fully equipped children's playground and a sports area suitable for tennis or five a side football.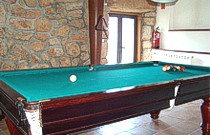 Walking to the main road is not advisable for the faint-hearted. Restaurants in the nearby area are 6 kms (3.80 miles) away. Towns nearby are Marco de Canaveses, Penafiel, Amarante and Porto.
The property has a small private pontoon.
Quinta do Cao is approximately 72 kms from the airport.