The house has been beautifully restored by the owner using his architectural skills to excellent effect.

The front elevation has an enormous coat of arms of the family in stone.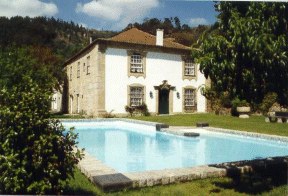 At the side of the main house is the small chapel which is used for family weddings and christenings etc.

The rear of the house overlooks a small farming valley in which a tributary of the River Douro flows.

Also in the valley is a railway tunnel from which a train will occasionally be seen as it approaches the river Douro for its journey upstream along its banks - one of the great train rides in the world and the opportunity should be taken to enjoy the journey.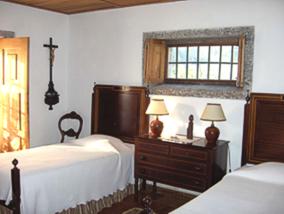 The well maintained swimming pool is set in the lawned gardens where you can enjoy pool side drinks or lunch brought to you by the servants.
The house is a perfect setting for those liking luxury and peace and quiet. All this in the beautiful countryside of northern Portugal.
There are three guest bedrooms in the house each with french windows leading onto the garden and en-suite bathrooms. There is also a bar, a sitting room and a dining room.
The staff will prepare evening meals on request and are available all day to prepare snacks and serve drinks.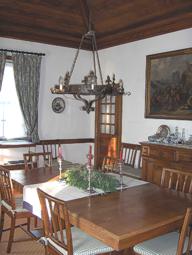 A crafts room shows a selection of local handicrafts complete with the tools used in their manufacture. In addition there are memories from the days when all the houses used to manufacture their own wines. Nowadays most of the grapes go to the various co-operatives and the growers get paid in wine.
As an alternative to enjoying the garden, there are interesting walks in the beautiful local area or your host can make a reservation on a Douro Cruise boat or on the old famous steam train which travels along the river.
The Douro River has vessels on which to spend a pleasant day and possibly a lunch followed by a port wine.
This house, as in most of the Manor Houses of Portugal, has as its most important asset the traditional Portuguese hospitality of your host and his family.
Although the local roads wind their way along river valleys or mountain ridges and passes, most of the journey from Porto is along a new motor way with easy access from the airport.
In the grounds of the property there is also a four bedroom cottage for rental on a self catering basis.