This majestic palace is surrounded by its gardens of extensive lawns, mature trees and vineyards.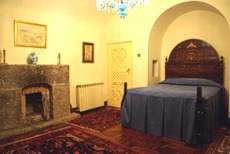 It is situated on the south facing slopes high above the beautiful valley of the river Lima in the north of Portugal.
Despite its imposing external appearance, the palace is remarkably compact inside with warm and friendly rooms. Central heating makes this an attractive place to stay even during the winter months.

An external granite staircase brings you to the main entrance and the grand entrance hall with its wooden ceiling and traditional furnishings

There are two guest bedrooms in the main house.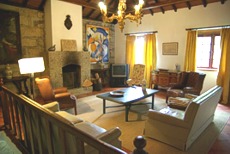 Former outbuildings, across the courtyard form the main house, have been converted into a further seven bedrooms.
Visitors have the use of a breakfast terrace with stone arches and steps leading down to the gardens and swimming pool. There is also a lounge, a cards room and a games room for billiards and table tennis, In the garden there is a tennis court and 10 kilometres away is the new golf course at Ponte de Lima.
An evening meal can be provided by the servants provided that arrangements are made beforehand.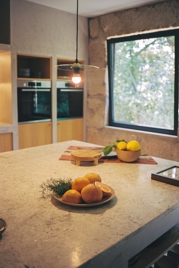 The house is near to the Peneda - Geres National Park which is the only one that has International Status in Portugal. This has outstanding walks (try the Sunflower Guide - Landscapes of Portugal - Costa Verde ISBN 0-948513-50-0).
There is the opportunity to see village life and agriculture unchanged over the centuries. Some villages containing hundreds of people still do not yet use money within the community using a bartering system instead.
The local council dictating the daily work in the fields on an community basis. This way of life is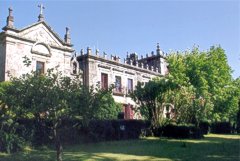 changing fast as they receive the 'benefits' of modern life in the European Community!
A recently opened motorway now gives fast access to Porto (Oporto) and its airport to the south. To the north is Vigo and Santiago do Compostela.
Paco da Gloria, and other manor houses in the area, are ideally located for those doing business in the nearby cities of Braga and Guimaraes and who don't mind a short drive to an idillic setting.
In spring and autumn the house is especially popular with companies wishing to hold business meetings in the peace and tranquility of the rural countryside.