This beautiful house is situated in a magnificent garden 1 kilometre from the historic Minho town of Caminha, one of the most beautiful regions of Portugal.

From the house it is only a five minute walk to the Minho river and to the sea. Long sandy beaches, backed by sand dunes, covered with wild bushes and flowers, lie between the medieval forest of Camarido and the Atlantic, whilst opposite is the dark granite castle on Insua Island.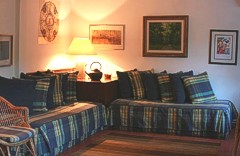 The valleys of the two rivers that merge at Caminha attract both fishermen and tourists due to the romantic setting and the Minho atmosphere. The green hills and darker mountains of Alto Minho form a back drop to the house.
The house was originally built as a hunting lodge in the eighteenth century by the Visconde de Guilhomil, an ancestor of the present owner.
The house is full of momentos of past travels and history. The chapel has a travelling altar belonging to an ancestor who died in the peninsular wars.
The house is situated about 75 Kms. from Porto airport, which is fast dual carriage way road for most of the distance. Porto can also be reached by the railway which runs near the house - but there is no traffic at night.
A car is advisable but not necessary. If arriving on the evening flight a taxi is recommended from the airport. (75 kms.)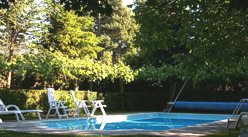 Your hosts have spent a lifetime at the highest levels in the diplomatic service and have a fund of stories for the interested listener. It is obvious that they love this area of northern Portugal and often take their guests to see life in the Minho countryside.
The businessman may find it worth the extra mileage for the informal advice and assistance that can be given which would be invaluable to the first time visitor to the main industrial region to the south between Porto to Braga.
There are two double bedrooms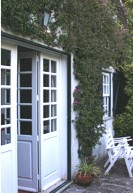 with bathroom in the main house and a single room with bathroom. A modern annex has two apartments both with two double bedrooms, a sitting room and a kitchenette. In addition, there is a studio room for two people with a kitchenette, shower room and garden terrace.
The swimming pool is set in the leafy garden in which to enjoy the Minho summer although there is some traffic noise can be heard. About 1 km away are the beautiful sandy beaches of Moledo and the mouth of the river Minho.
The minimum stay is three nights but the businessman might be able to stay for two nights outside the main tourist season. The main house is fully centrally heated.
In the gardens there is a separate house which has been converted into three self catering apartments. Two of these have two bedrooms each and the other is a studio apartment.