Villa Vista at Tras da Moita is in a prime elevated position, with spectacular views down the valley, to the Atlantic beach of the small village of Sao Lourenco. Although of modern construction, this house offers similar accommodation to the Manor Houses, and is in a popular tourist area.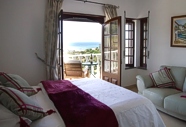 A few kilometres to the south is the popular seaside resort of Ericeira. The nearest large town is Mafra, a few kilometres north of Lisbon.
In Mafra is the Convent and Palace of Mafra, built in the 18th century by order of King Joao V, which cost most of the realm's money during its 13 years of building.
The first plans for the Convent were quite modest. Then, the German architect, Ludovice, made many changes and built a convent for 300 priests, a basilica and a royal palace with 666 rooms. Today the library has nearly 38,000 books.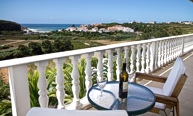 A visit should also be made to Sintra, one of the most beautiful towns in Portugal and a world heritage site. Its gardens, buildings and atmosphere have been the inspiration for many. The most notable being Byron and the Portuguese novelist Eca de Queiroz. Within easy driving is the magnificent walled town of Obidos.
Villa Vista at Tras da Moita is a modern three storey house in extensive gardens. The house overlooks the surrounding countryside and the beach, which is an easy 10 minute stroll. The owners can help and advise on many peaceful coastal or countryside walks and interesting places to visit.
The house has five en-suite double bedrooms.
Four of the bedrooms have a balcony with a seaview.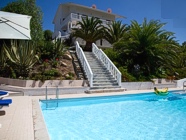 On the first floor is a delightful large lounge and breakfast room, although breakfast in the summer can be taken on the large balcony off this room.
In the mature garden is a large eco-friendly swimming pool. Villa Vista has electric gates and a long drive with secure private parking. With a number of steps, Villa Vista is not suitable for guests with limited mobility.
There are 14 restaurants nearby offering a wide selection of dishes with fish and shellfish being the specialities. Ericeira offers a further 40 restaurants.
In addition this western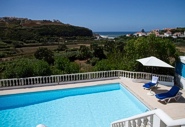 coast has many beautiful sandy beaches and bays. Many will prefer the calm seas in the morning when the wind is light and blowing off the coast.
For those interested in golf please click here.
The cool Portuguese Trade Wind blows most afternoons and transforms the water into a paradise for surfers and wind surfers. Most of these beaches have been awarded the European blue flag for quality.
Smoking is not allowed in this house.