"The Pergola House" is a mediterranean style mansion, with elegant white marble floors and staircases, beautifully decorated bedrooms with "bas relief" stucco ceilings and a charming garden..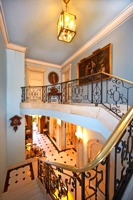 This superb house has been owned by the same family for over a century and its beautiful facade, adorned with hand painted tiles, has been the delight of both amateur and professional photographers.

Casa da Pergola is near the centre of Cascais and is the choice of travellers who do not want to stay in impersonal hotels in city centres.

In this Manor House of Portugal you can enjoy the hospitable atmosphere and spirit of Portugal and its people.

The house is situated in the centre of Cascais, an eight hundred year old village of fishermen.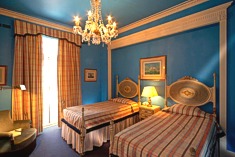 The balmy climate of this part of the coast resulted in bind the favourite place for several dethroned kings to make their home in the last century.
Although now developed into a town, Cascais has retained its old world charm - in the old quarter you can take a walk through winding cobbled streets with pavement taverns and restaurants serving typical Portuguese dishes.
In the harbour area, in the centre of the town, fishermen repair their nets beside their colourfully painted boats.
Nearby a marina has been opened for the many yachts travelling down the coast from Northern Europe into the Mediterranean or across the Atlantic to the West Indies and America.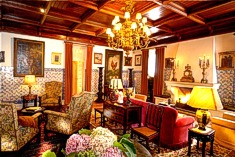 From Cascais, there is easy access to Lisbon and its airport via a modern motorway.
Lisbon is not the place to take a car due to the volume of traffic, many one way streets and poor sign posting. Staying at Casa Pergola and travelling by train is an attractive alternative.
The train station is two minutes walk from Casa da Pergola.
The lovely town of Sintra with its evergreen vegetation, ancient Castles and Palaces is often described in poetry as 'heaven on earth'. Also worth visiting is the Sintra-Cascais Natural Park.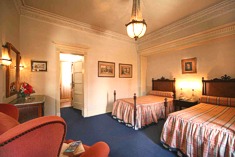 There are ten bedrooms all with ensuite bathrooms. Some rooms have twin beds (with or without balcony) and some are double bedrooms.
Guests have the use of a lounge and breakfast is served in the dining room and in the summer it may be served in the garden (weather permitting). There are many restaurants within a short walk for an evening meal.
Guests Dave and Renae Thompson of Phoenix, USA said "The Casa da Pergola in Cascais was outstanding. The management was very helpful and the accommodations and location were better than expected. I think we were there at about the height of the flowering of their gardens".