Casa de Fontes is a modernised Manor House designed to take advantage of the magnificent landscape overlooking the Vouga Valley in the Aveiro countryside.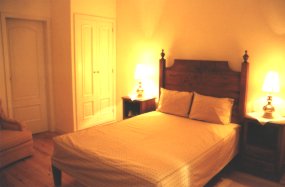 The house has remained within the same family for several generations, and recently the old area of the house has been restored and partly modified to receive tourists.
In 1873 part of the house was rebuilt according to the architectural style of those times. Later on, in the 1920's there was a restoration of the interiors which were enriched by the use of materials and woods from S. Tome, At that time the owner was practising as a doctor in this Atlantic island which was a former colony of Portugal.
This old part of the house has been preserved and is now the reception rooms which can be used by the guests
The former dining room is now a comfortable sitting room where you look out through the picture windows over the gardens of the house and the valley of the Vouga river.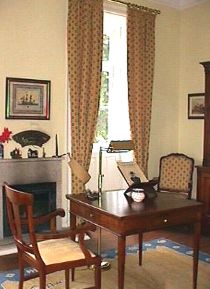 The old kitchen is now another sitting area. There is also a snooker room and cards room.
Wireless internet access is available on the ground floor (common areas).
The ground floor of the former housekeeper's home has been converted into a small gymnasium with a table tennis table.
Traditional Portuguese meals are still cooked in the old bread oven. On request, meals may be taken with the owners, at the large table of the formal dining room.
The ten double rooms are in the newest part of the house. They have been designed to make the most of the sunlight, each has a balcony overlooking the gardens as well as the distant river valley. All the bedrooms have a private bathroom and direct telephone.
There are 2 rooms non-smoking and 2 connecting rooms which are suitable for families with up to 5 people.
The relaxing environment invites you to step into the garden and spend the day by the pool. Close by there is a separate children's pool and swings and a slide. There are also three mountain bikes for the use of guests.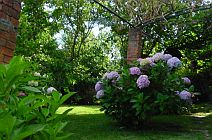 The nearby countryside offers a variety of wonderful walks through the valley, along the banks of the Vouga river, By car, the "Ria de Aveiro", the seaside and the mountains are a short distance away.
The house has easy access by car, from the A1, the main north/south motorway, and A25, connecting Aveiro to the Vilar Formoso border. The house has private parking.
Facilities at the house include library, adult and children's swimming pools, billiards, table tennis, free car park and telescope.
The following are available in the locality golf, canoeing, jeep safaris, climbing, archery, tennis, horse riding, diving, golf and walking, cycling and car and boat tours.