Casa do Vilarinho de Sao Romao was formerly the family home of Viscount of Vilarinho de Sao Romao.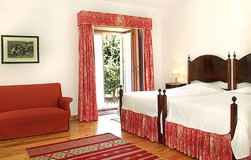 The house is within the Douro demarcated region between Vila Real and Pinhao.

The grapes from the vineyards surrounding the house are used for the production of Port Wine. In years of good production, when the Port lodges cannot take all the production, the grapes are used to make table wine.

The private chapel was built in 1462. It was the main church for the village until the end of the century when the parish church was built.

The main house was constructed during the 17th Century and has had various additions as the estate became more important with the expansion of the Port Wine trade.

The house was bought by the present owners in 2001 and has been extensively renovated.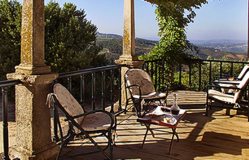 During this restoration, particular care was taken to retain the style of the original construction.
The house has six bedrooms available for visitors. All the bedrooms have en suite bath or shower room and central heating.
Four of the bedrooms have twin beds and the remaining two have a double bed.
The guests also have a living room with satellite TV and a library.
Breakfast is served each morning in the formal dining room and evening meals can also be served by prior arrangement.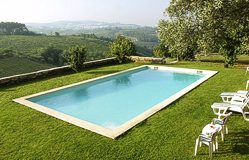 Outside there is a swimming pool in the lawned garden with views over the valley filled with the vineyards for which this region is world famous..
The Douro wine producing area is now an UNESCO World Heritage site.
Walking is a very popular activity among guests. Detailed walking notes of itineraries of different degrees of difficulty (and maps) are available, making possible the appreciation of unique views of the Douro Valley.
With the Great Wall of China, the terracing of the vineyards are the two man made features that can be seen with naked eye from the moon.
During your visit you will probably be visiting two other World Heritage sites, the Archeological Park of Vale of Coa with its prehistoric rock carving and the riverside at Porto which faces the Port Wine lodges on the south bank of the river in Vila Nova de Gaia.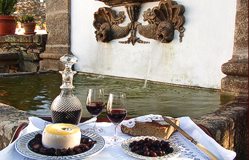 To the west (20 minutes driving) is the Palace of Mateus which is one of the most visited building in Portugal. Its picture became famous on all the bottles of Mateus Rose sold throughout the world.
To the south is Pinhao and the Douro river. The river is best seen from a boat or from the train.
Casa Vilarinho de Sao Romao is approximately 22 kilometres south of Vila Real. Oporto airport is approximately 2 hours drive via Vila Real.