Located on one of the pedestrianised streets in this vibrant but safe city area. The surrounding pedestrianised streets have many small shops, bars, restaurants etc. at street level. The living quarters of the local community on the higher levels contain a thriving colourful community.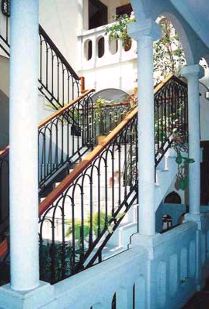 This 16th Century house is famous for its Manueline window, shown here, whose style of architecture celebrates the discoverers who set sail from this and other ports. This window has been classified as being of outstanding public interest.

The Costa Barros family acquired the house in 1765 and even today you are house guests of Mr and Mrs Costa Barros and you will be looked after by them and their servants.

This house is very suitable for those who do not wish to drive on the Portuguese roads since Viana has good connections by bus, coach and train to all places of interest.

25 kilometres away is the new golf course at Ponte de Lima. There is also the coastal course at Estela to the south and the 9 hole Quinta da Barca within easy reach.

The long sandy beaches of the area have the 'nortada' the Portuguese trade winds blowing along them in the afternoons keeping the climate temperate and giving enjoyment to the surfers and especially the wind surfers.

There are 10 bedrooms for guests, 8 with air conditioning. All bedrooms have en-suite facilities, TV, radio and telephone. It is possible to sleep in the bed in which the King of Portugal slept in former times.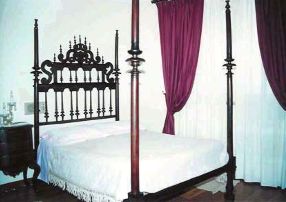 As seen in the photograph, the beds are in the traditional Portuguese design which do not have any flat surfaces so that the devil cannot land at night.
Guests are welcome to the bar and the lounge. There is also a separate breakfast room.
This house makes an excellent base for a winter break since it is centrally heated with all the city services nearby.
Viana do Castelo is approximately a one hour drive from Porto airport and this house make an attractive alternative to the hotels of Oporto for the businessman with contacts to the north of Porto.