Casa de Fatauncos, dating back to the 18th century, is located in Fatauncos, a small historic village, 22 kms from the Beira Alta capital district.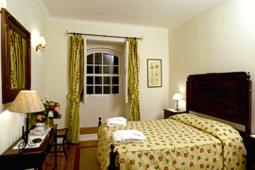 Set in the foothills of the Northern slope of Caramulo Mountain, this Manor House offers spectacular views of the wild beauty of the mountain ranges of Arada and Gralheira.
This house is an excellent example of a well preserved property of the period. It is tastefully decorated with Portuguese masterpieces and traditional handmade ceramics dating from the 18th and 19th centuries.
The house has 6 guest rooms with en suite bathrooms and there is central heating. Two of the rooms have TV and another has air conditioning.
There are also two cottages providing accomodation for a total of 9 people. Each cottage has two double bedrooms, one having an extra single bed. Both cottages have air conditioning, a bathroom, television, and are suitable for a disabled person.
There is one quadruple room with an attached kitchenette available at an extra charge.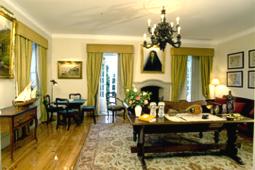 Guests are invited to use the lounges and dining rooms, as well as the library and the beautiful piano room with an open fireplace.
The gardens offer a peaceful and relaxing atmosphere, where light meals can be served. They lead to a beautiful swimming pool and a children's playground.
The facilities include a tennis court, that can also be used to play football and basketball, and a games room offering snooker, table tennis and chess.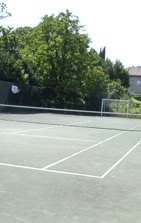 The hilly countryside provides a delightful landscape with orchards, vineyards, a botanical protected area (Cambarinho) and forest land with clear streams.
A short distance away there are high mountains (Caramulo and Gralheira) ideal forcar trips, hiking and adventure sports. The chapel of S. Macario in Gralheira offers one of the most interesting viewpoints in the whole country.
There is a the spa of S. Pedro do Sul, three kilometres from "Casa de Fatauncos" and the golf course of Monte Belo, to the south of Viseu, is eighteen kilometers.
Lovers of history will find endless points of interest which start in pre-historic times, passing through Roman (the balneum at S. Pedro do Sul spa) and medieval times (the Cathedral and the old quarters in Viseu and the romanesque church in Vouzela).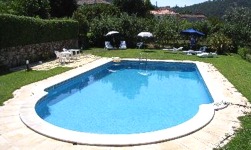 The house has a museum with an important collection of Portuguese and European art dating fron the XV to the XX centuries. Nearby there is also an Automobile Museum in the mountains of Caramulo.
As a matter of interest, Casa de Fatauncos has a wide variety of flavoured jam, all made by D. Maria Luiza, who will be pleased to welcome you to her house.
Your stay will provide an opportunity to enjoy nature and the spas, practice some sports, or perhaps discover all the interesting history points in the area.
Meals are available if requested in advance for an extra charge.